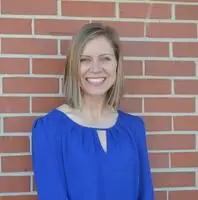 Kerry Craymer is a Licensed Professional Counselor (LPC) with clinical experience in a variety of settings. She is dedicated to helping her clients foster growth and healing through a collaborative therapeutic relationship.
She has an undergraduate degree from Virginia Tech in Communications and Psychology and a Masters degree from Gordon-Conwell Theological Seminary in Counseling. She is a Certified Clinical Trauma Professional certified through IATP (International Association of Trauma Professionals) and a Certified EMDR Clinician through EMDRIA (Eye Movement Desensitization and Reprocessing International Association).
Kerry takes an integrative approach to treatment incorporating Cognitive Behavioral Therapy (CBT), Eye Movement Desensitization and Reprocessing (EMDR), Solution Focused Therapy, strength based practices, and mindfulness techniques. Kerry specializes in helping clients work through anxiety, panic attacks, and trauma. She also offers counseling from a Christian perspective if requested.
Kerry is now offering EMDR INTENSIVES, customized support for individuals looking to accelerate their healing journey as an alternative to the traditional weekly therapy model. An intensive may be right for you if:
You've intended to pursue regular therapy sessions but your hectic schedule makes a weekly therapy appointment feel more overwhelming than supportive.
You are looking to feel better faster. An EMDR intensive can save time and accelerate treatment goals by decreasing time spent on

a) checking in at the beginning of each session, b) addressing current crises, c) focusing on coping skills that the client won't need after trauma healing, or d) assisting the client in regaining composure at the session's close.
You are interested in an EMDR Intensive alongside your traditional talk therapy as an adjunct treatment.

Kerry will partner with primary therapists and their clients to target specific memories, body sensations, or limiting beliefs with EMDR. By narrowly targeting specific traumatic memories or intrusive material, brief adjunct EMDR can accelerate progress in traditional therapy, help the client and the primary therapist to resolve stuck points, and enrich their ongoing work.
YOUR INTENSIVE INCLUDES:
Pre-consultation interview (90 minutes) to assess unpleasant beliefs, body sensations, emotions, or images from which you are seeking relief.
Personalized treatment workbook, which allows you to work on your treatment goals before, during, and after our intensive sessions.
A customized treatment program with targeted treatment goals. EMDR therapy on three consecutive days for three hours each.
Post-treatment interview (60 minutes) to assess and support your adaption to positive changes from treatment.
FEEs for a weekday intensive: $2,450
Fees for a Weekend Intensive: $3,200
* This is a fee for service package and insurance is not accepted.
If you'd like to schedule a free 15-minute consult call to determine if an EMDR intensive might be right for you email Kerry at [email protected] or call (757) 685-4453 Ext. 708.