Enneagram Personality Types
Training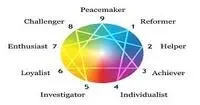 Presented By: Heather Boynton, LCSW
EMDRIA Certified EMDR Therapist
EMDRIA Approved Consultant/Trainer in EMDR &
Kime Kenslow, LCSW
EMDRIA Certified EMDR Therapist


Cost: $175.00
(An Enneagram manual that will provide materials to work with your clients is included in the cost).



When: Saturday, March 24, 2018, 9:00 a.m. to 4:00 p.m.
(There will be a one-hour break for lunch on your own)
Where: 921 First Colonial Rd.; Suite 1707; Virginia Beach, Va. 23454



Friday, April 27, 2018 Travel training held in Lynchburg, Virginia (Class is Full)




What is Enneagram? : In short, it is a proven psychological system that describes 9 inherently valid worldviews of reality. The Enneagram personality model exposes the unconscious assumptions- closely held opinions, inclinations and expectations that we barely know we have. These unconscious assumptions drive the way we see ourselves, do our work, relate to colleagues, and make decisions. Enneagram is an international personality typology that provides a clear and comprehensive understanding of human behavior and the psyche. Instead of 'boxing' people into fixed categories, the Enneagram profiles 9 styles of being, which are truly dynamic, representing individuals as they change and transform in life.



What will you learn? :
· Identify the basic characteristics of your personality type.
· Understand your key motivations, inner world, basic fear that affects your behavior and the behavior of each personality type.
· Understand how you make decisions, relate to others, and interpret others' behavior...from your perspective.
· Do's & Don'ts of each type - Stress patterns, hot-buttons & potential problems to anticipate.
· Learn how to identify another person's personality type using '3 different intrinsic ways' (personality lenses) from their Social Style, Coping Style and Triads (functions of human psyche).
· Learn how to get 'out-of-the-box' with Enneagram when you understand the Integration & Disintegration Directions.
· Learn how to assist your clients' in therapy to strengthen their relationships and communication with others by teaching them each personality type.
How can you help your clients? : Teaching clients the principles of each personality type, each personality types own gifts, and limitations and blind-spots they may have that may be a barrier to addressing current and past relational issues. Many of us yield to the temptation to think of other types as defective versions of our own. You will be able to teach your clients that we are different in important ways. This tool can provide a framework for your clients' treatment objectives to improve communication in parenting, improve communication with colleagues at work, and improve their relationships in general.



Why learn the Enneagram? : The Enneagram is a powerful tool for self-discovery and personal development, individual and group therapy, and excellent as a coaching technology, leading to increased emotional intelligence. It has been used in organizations as a proven system to accelerate working relationships to higher levels of productivity, especially in the areas of team building, leadership, negotiations, conflict resolution, hiring, appraisals, and client relations. By understanding personality types, we learn to be more flexible to see the viewpoints and needs of others. With this new awareness, we help ourselves and others become more effective - and as a result, harmony, productivity and satisfaction increase.




Who uses the Enneagram tool? The Enneagram is used in many fields such as training & coaching, business, education, psychotherapy, entertainment, sales and law. Designed for those who need to influence others:
· CEOs - for effective communications and persuasive presentations to staff and Board of Directors
· Managers - to increase the contributions, productivity and professional responsibility of staff
· Professionals - to sell ideas and influence clients to act
· Teams - to improve cooperation, collaboration and communications
· Parents - to establish stronger connections with your children, and guide them with less stress




Training Course Registration Form:

Date: ________________________
Full Name: _______________________
Email address: _____________________
Phone#: ________________________
Amount Enclosed: ____________________



Make checks payable to: Waves Psychotherapy Services, P.C.; Mail to: 921 First Colonial Rd. Suite 1707; Virginia Beach, VA 23454.



Credit Card#_____________________
Exp.Date:_________ Billing Zip Code____________
CVV Security Code: _________ (3 digit number on back of card).
Card Holder's Signature________________________
There will be a convenience charge of 3.5% added to the total amount charged.